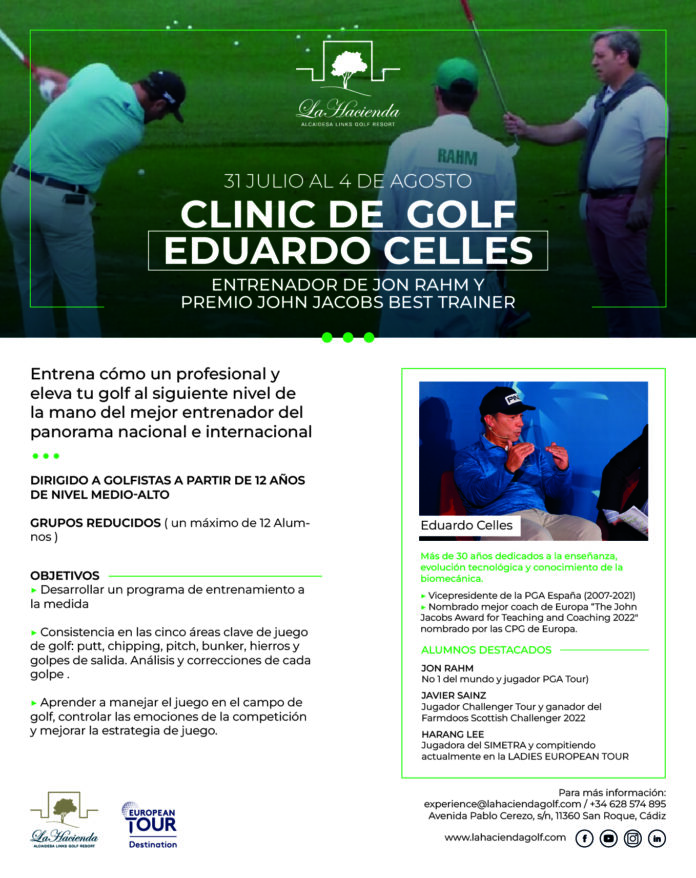 La Hacienda Links Golf Resort is offering golf fans the exclusive chance to discover the secrets of what it takes to become a world number one – from the coach of two-time Major winner Jon Rahm.
Eduardo Celles, long-time mentor to Rahm who first coached the world number three at the age of 13, will be hosting a five-day clinic at the 36-hole resort on Spain's Costa de Sol from July 31 to August 4.
Available to intermediate and advanced players from the age of 12 upwards, the intensive golf camp features eight hours' daily coaching and advice from Celes and his team on all areas of the game using the first-class facilities at La Hacienda, which include two 18-hole championship courses and a recently upgraded driving range.
As well as offering expert swing tips and tuition to players on chipping, putting, the short game and bunker play, Celes – winner of the CPG's prestigious John Jacobs Award for 'Teaching and Coaching 2022' – will also cover the mental and strategic sides of golf that are sometimes overlooked.
The opportunity to put everything learned into practice with playing lessons on La Hacienda's two courses – the Links and the Heathland – is also included but the clinic is limited to a maximum 12 people and are being allocated on a first-come, first-served basis. For more details and to book, email experience@lahaciendagolf.com or phone (+34) 628 574 895.
Located in the Cadiz municipality of San Roque close to Sotogrande, La Hacienda Links Golf Resort has undergone a major redevelopment in the last 12 months that has seen the venue establish itself as one of the rising stars of European golf.
In addition to the relaunch of its renowned Links course last summer after a major renovation, the opening of a new clubhouse and the announcement of a new Fairmont hotel to open in 2024, the resort is carrying out a fresh series of upgrades to its golf and leisure amenities including new investment on its other 18-hole layout, the Heathland course.
Other future improvements include the launch of a new state-of-the-art website, a variety of updated stay-and-play packages and the opening of a new halfway house for players on the Links course, while La Hacienda will fully launch a new 300-plus-room Fairmont hotel and villas in spring 2024 – underlining the resort's ambition to become one of the most exclusive and luxurious golf developments in Spain.