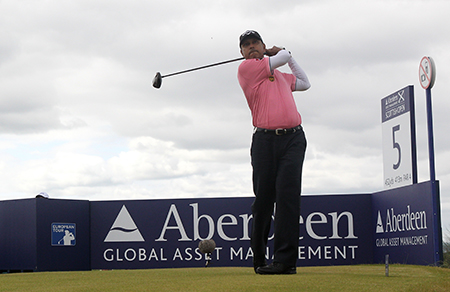 Connecting Carers and Maggie's Highlands, the two Official Charities of this year's Aberdeen Asset Management Scottish Open, have enjoyed an impressive launch to their fundraising campaigns during the recent annual Maggie's Highlands Golf Day and Gala Dinner hosted by tournament venue Castle Stuart Golf links along with the Drumossie Hotel, Inverness.
The healthy kick-start to the fundraising activities came courtesy of the auctioning of a Pro-Am team which will provide a 'money can't buy' experience on Wednesday, 10 July for three amateur golfers to play with Scottish professional Scott Jamieson, winner of this season's Nelson Mandela Championship presented by ISPS Handa on The European Tour International Schedule.
After a competitive live auction for the star lot of the evening, the Pro-Am team was bought for £10,000, which will be divided equally between Connecting Carers, a charity nominated by the event's title sponsor, Aberdeen Asset Management, and Maggie's Highlands, the nominated charity of The European Tour's charitable arm, the Tour Players Foundation (TPF).
In addition to the superb initial funds raised, Aberdeen Asset Management and the TPF will be working together on a raft of initiatives before and during the week of the event, to benefit the nominated Official Charities, both of which provide vital support in the Highlands and local Inverness area.
Further initiatives involving the on-course action and the spectating public will be announced soon, offering everyone the opportunity to support the Official Charities and the fantastic services they provide.
Peter Adams, Championship Director of the Aberdeen Asset Management Scottish Open, said: "We are delighted that the Pro-Am auction raised such a substantial sum last weekend to ensure that the two Official Charities of the Aberdeen Asset Management Scottish Open will benefit considerably from the launch event.
"A further series of initiatives will be announced shortly and we are confident that Connecting Carers and Maggie's Highlands will enjoy a highly successful association with a tournament which ranks among the very best on The European Tour."
Lynda Affleck, Head of Charitable Giving at Aberdeen Asset Management, added: "We are delighted to be supporting Connecting Carers and Maggie's Highlands through the tournament this year. Both are terrific local charities and we look forward to helping them raise as much as possible."
Caroline Thomson, Highland Community Care Forum and Chair of Connecting Carers said: "Connecting Carers is delighted to have been chosen as one of the recipients from the fundraising activities at this year's Aberdeen Asset Management Scottish Open. I hope that everyone has a wonderful time at the tournament and I'd like to say a huge thank you to everyone involved. Your support is invaluable in helping us to grow the service we offer to adult and young carers across the Highlands."
Gavin McLellan, Head of Community Fundraising for Maggie's said: "Maggie's Highlands are proud to work with such high profile quality partners and look forward to helping to build on the phenomenal success of the 2012 Aberdeen Asset Management Scottish Open. To be able to launch this new partnership at our Maggie's Highlands Golf Day and Gala Dinner last week was fantastic. The opportunity to raise awareness of Maggie's very special and unique approach to cancer support is incredibly valuable. All of the funds raised through this initiative will help ensure that our doors are not only open today but remain open for years to come. On behalf of everyone at Maggie's, thank you so very much for your support."
To find out more about the two charities, please visit:
http://www.highlandcommunitycareforum.org.uk/
http://www.maggiescentres.org/highlands/introduction.html