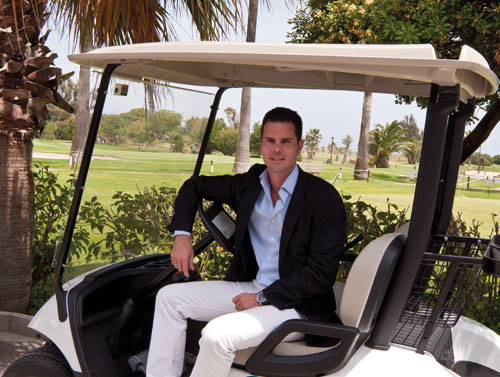 As soon as he had graduated in communication sciences, specialising in marketing, advertising and public relations, he decided to travel overseas to gain professional experience.
"In London I had the great experience, on a professional level, of working for the Hilton chain, where I passed through various departments: reservations, sales, event organisation, etc. When I returned to Málaga in 1999 I worked for Cititravel, one of the best and most well known agencies specialising in conference tourism in Spain, first as accounts manager then later as commercial manager. That was my great opportunity to start selling my home area to the rest of the world, especially in the Scandinavian countries, United Kingdom, United States and Canada. At the time, Cititravel manager Carlos Chartes said to me, "Marcelo, if you are going to work for this company and travel around the world, you must learn to play golf, if you really want to sign contracts and generate business." That's when I started playing golf.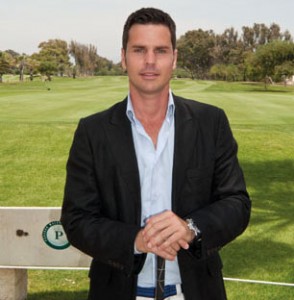 It's now been 13 years as the eternal beginner in this sport I feel so passionate about. I have now been working for the Patronato de Turismo de la Costa del Sol (tourism board) for 10 years, until now as assistant manager of the Convention Bureau with the key objective of marketing our destination mainly in Europe, the United States, Canada and some of the emerging markets such as south-east Asia, eastern Europe and even India. On all those travels I have had the opportunity of meeting managers and businesspeople, most of them golfers.
Six months ago, with the utmost enthusiasm and respect, I took over responsibility for three major segments of our destination: golf, Convention Bureau and luxury, all very different but very much related to each other.
However, above all else, I'm passionate about my home area, and I feel proud and privileged to be able to sell it around the world and try to attract tourists with high earning power. I believe in golf as a quality tourism product, and that in our case we provide a stamp of quality and luxury. But above all else I'm impressed with the professionals involved in our sector. We can be proud of them because we have the best here in our province (Málaga).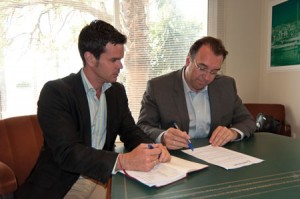 Through the Action Plan for 2012 – for the first time put together by consensus with the sector – the objective is to place special emphasis on a more rational marketing campaign that reaches the main markets (Spain, United Kingdom, Germany and the Scandinavian countries) as well as strategic markets where there is increasing demand (the Benelux countries, eastern Europe and the United States, among others). It is important to know how to promote more effectively the attractions of this excellent product we have, using tools that, until now, have barely been used, mainly online marketing and reinforcing the Patronato's golf section in the SGD (Sistema de Gestión del Destino – or Destination Management System). We mustn't forget that most bookings by golfers are via the internet. So we are working on the design and structure of what will be the first specialist web page on the Costa del Sol, containing general information about the destination, information about all our golf courses and academies, a key section on events including all the championships held at our courses, and a section on visitors' testimonials which we can even market.
The action plan we are presenting is varied and covers a diverse range of activities. At a national level, there will be a significant increase in the number of initiatives, extending our campaign this year to other regions that have not been covered until now. We will be using the Madrid Masters Model to also cover Cataluña with the Masters Cataluña, and undertake initiatives in the Basque Country, Cantabria and areas of Castilla-La Mancha. According to the latest study by the Royal Spanish Golf Federation, for 2011, the regions with the highest number of affiliated members based on their respective populations are Cantabria, Madrid, Asturias and the Basque Country – and we want to reach all those areas.
It is also important to highlight the creation of two major initiatives at a European level, the Sol German Cup and Sol Norwegian Cup, where golf tour operators and the specialist press will have the opportunity of meeting our businesspeople with the aim of exchanging business information and knowledge about the destination – while also highlighting the relationship with the media, which will be of prime importance.
Golf tourism is quality tourism, as it involves a segment of the population with a high-level socio-economic profile, and that's where we should combine our efforts to focus on a made-to-measure marketing plan. To that end we want everyone who is involved directly in this industry (golf courses, hotels, agencies and service companies) to come together and fight for the same cause, so we all end up winning and can guarantee a promising future."