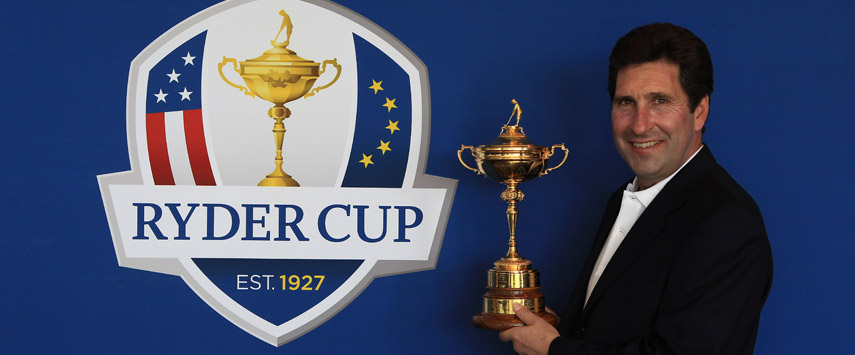 Björn, Clarke and McGinley have between them played in ten Ryder Cups, with no fewer than nine wins to their credit, and together represent an accomplished and knowledgeable 'Backroom Team' after working together for The European Team when the Cup was regained at The Celtic Manor Resort, Wales, in 2010.
Olazábal, who played in seven Ryder Cup matches between 1987 and 2006 and was a Vice Captain in 2008 and 2010, said: "I could not be more delighted than to have Thomas, Darren and Paul as Vice Captains especially as we bonded so well supporting Colin Montgomerie in 2010. All three are world class golfers with tremendous experience of playing in The Ryder Cup which is absolutely invaluable.
"For me to have these guys – all such great friends – by my side is fantastic. I know like me they will now be counting down the days to when we get to Medinah with one aim – to return home with the Cup.
"Thomas, Darren and Paul share a special spirit and love for the game and they have the respect and admiration of everyone in golf. Their passion, commitment and desire to win will encourage everyone in the team room and for me it is so important to have guys you know, guys you trust, guys familiar with this contest because The Ryder Cup is unique.
"My own experiences as a Vice Captain in 2008 and 2010 taught me that you need a lot of help that week. You need eyes, extra eyes to follow the players in the practice rounds to gather as much information as you can about how everyone is playing.
"Then it is important to have each match watched because you have to hand in your pairings for the afternoon matches when the players are still out on the course. That means it is essential to have all the information you can get before you put those pairings down on paper – my Vice Captains will make sure that is the case and I will name the fourth one at the August 27 Conference when I announce my two picks.
"This Ryder Cup, like so many in the past, will come down to who shows the most character under pressure. It is certain to be close but I am confident we have the players to bring the Cup back home with us, and to have Thomas, Darren and Paul already on-side in Team Europe is a massive boost."
Björn became in 1997 the first Danish player to compete in The Ryder Cup and he was unbeaten in the Seve Ballesteros-captained winning European Team, and he was also on the winning team in 2002. He has played six matches, winning three and halving one. Björn was Vice Captain to Bernhard Langer in 2004 at Oakland Hills and to Colin Montgomerie at the Celtic Manor Resort in 2010 and he has also captained Continental Europe in the Vivendi Seve Trophy. He has 13 European Tour wins and in all 19 worldwide.
Björn said: "I said in 2010 that if you can't play well enough to be on the team then I am very happy to do this role. I'm delighted to be invited by José María and to be one of his Vice Captains. We know that an experienced Backroom Team can make a big difference, and together we will be looking to support the Captain in making good decisions and making the team feel comfortable with what they are doing."
Northern Ireland's Clarke, winner of The 140th Open Championship last year, also, like Björn, made his Ryder Cup debut in 1997. He played five matches in succession, finishing on the winning side four times, and won ten and halved three of his 20 matches. Clarke was Vice Captain to Colin Montgomerie in 2010. He has 14 European Tour wins and in all 21 worldwide.
Clarke said: "I am really pleased to be part of José María's team and I know that we can instil that relaxed atmosphere in the team room and help the Captain get the best out of the players. Make no mistake this is a very strong Backroom Team because we have been there before and done it before. We'll be seeking to use our experience to re-create that terrific team spirit and bonding that has made the European Team room such a special place to be for so many years."
Ireland's McGinley famously holed the winning putt on his Ryder Cup debut in 2002 and he has an enviable 100 per cent winning record having also been on the winning team in 2004 and 2006. He won two and halved five of his nine matches. McGinley was Vice Captain in 2010 and he captained Great Britain and Ireland to victory against Continental Europe in both the 2009 and 2011 Vivendi Seve Trophy matches. McGinley has four European Tour wins and in all nine worldwide.
McGinley said: "I am thrilled to be part of Team Europe again and I would like to keep that unbeaten run going. But we all know that Ryder Cups are always very difficult. The Americans always look to start fast especially on home soil, as they did at Valhalla in 2008, and we will need to be ready for that. What is important is that we win The Ryder Cup again not just for us but also for The European Tour."
The ten automatic qualifiers for The European Ryder Cup Team – five from the European Points List and five from the World Points List – will be confirmed on Sunday August 26. Olazábal will announce his two Captain's Picks at a special 2012 Ryder Cup Conference at Noon on Monday, August 27, at The Gleneagles Hotel, Perthshire, Scotland.
The eight automatic qualifiers for the United States Team became known following the conclusion of the US PGA Championship last Sunday. They are Keegan Bradley, Jason Dufner, Zach Johnson, Matt Kuchar, Phil Mickelson, Webb Simpson, Bubba Watson and Tiger Woods. United States Captain Davis Love III will announce his Captain's Picks at the NASDAQ Marketsite, New York City, on Tuesday, September 4. Love has named Fred Couples, Mike Hulbert, Jeff Sluman and Scott Verplank as his four Vice Captains.