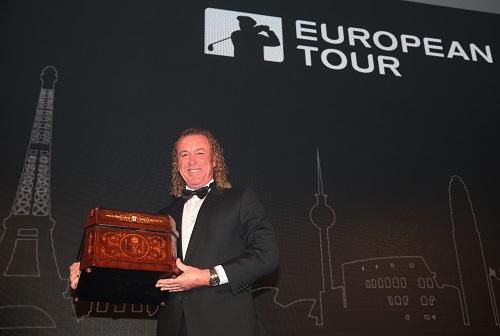 With a single swish of one of golf's most recognisable swings – not to mention that unmistakable ponytail – on the first tee of Wentworth Club's iconic West Course, Miguel Angel Jiménez joined an elite group of golfers at the BMW PGA Championship today as he officially made his 600th appearance on The European Tour.
The Spaniard, one of golf's most enduring characters, becomes the sixth player in history to reach 600 appearances, joining Sam Torrance (706), Barry Lane (682), Roger Chapman (619), Eamonn Darcy (610) and Malcolm McKenzie (605) in that rarefied group.
In recognition of his remarkable achievement, Jiménez, the first player from Continental Europe to reach the 600 milestone, was presented with a unique tantalus decanter containing a 600 year old whisky by European Tour Chief Executive George O'Grady and Tournament Committee Chairman Thomas Björn at the Players' Awards dinner on Tuesday night.
"It's been an amazing journey," said Jiménez. "The game has given me an amazing life and so amazing experiences and I have enjoyed almost every minute of it. I have had some special victories and experiences and it is difficult to pick out one highlight.
"This year is my 25th year in a row on The European Tour and I have seen so much change, and so many players. I think I have survived four generations on the Tour. When I started I was playing with Seve, with Lyle and Woosnam and all those players.
"Then came Olazábal, Faldo and Monty and their generation. Then you had Clarke and Westwood guys like that. And now when I go on Tour, they are kids. Rory and all of the these young boys are children!"
Born in Malaga on January 5, 1964, Jiménez turned professional in 1982 and made his first appearance on The European Tour at the 1983 Spanish Open at Las Brisas as he began a career that, so far, has included 19 European Tour victories and four Ryder Cup appearances (winning twice in 2004 and 2010), in the process amassing an incredible €19,980,346 in official prize money.
He was also a Ryder Cup Vice-Captain on two occasions, helping his great friend Seve Ballesteros steer Europe to an emotional victory on Spanish soil at Valderrama in 1997 before playing a vital role behind the scenes once again in Medinah last year, where he helped his other lifelong friend, José María Olazábal, invoke the spirit of Seve and inspire that miraculous Ryder Cup comeback on American soil.
Jiménez became a full Member of The European Tour by winning his card at the 1988 Qualifying School, making this year his 25th consecutive season on Tour. Over that quarter of a century, he has produced some unforgettable moments, most notably at Wentworth in 2008 when he captured The European Tour's Flagship event, the BMW PGA Championship, after a thrilling play-off with England's Oliver Wilson.
Most of Jiménez's career highlights have come in the second half of his professional life. He followed up his maiden win at the 1992 PIAGET Open with six more victories (including the 1999 Volvo Masters) in the decade spanning 1993–2003.
Since turning 40 in January 2004, Jiménez has turned a great career into a tremendous one, becoming the oldest winner in European Tour history, aged 48 years and 318 days, when he claimed his third UBS Hong Kong Open title in 2012. He holds The European Tour record for most wins by a player aged 40 and over, with 12 victories.
Those formidable facts and figures only really tell half the story of Señor Jiménez, though.
The word legend is often overused these days, but when it comes to Miguel, it really is the most appropriate description of his status on The European Tour.
Well-known for his love of fine wine, cigars and fast cars, he is simply one of the most popular characters to grace the fairways of professional golf in the modern era, possessing that amazing ability to make people who cross his path walk away with a smile after bumping into him on a range or clubhouse anywhere on the planet.
Be you a fellow-competitor, a member of the public, a sponsor, official or media representative, what you see is what you get: a man whose passion and love for living life to the full is as insatiable as it is infectious.
The good news for The European Tour, and the game of golf as a whole, is that Miguel will be with us all for a few more years to come.
"As long as I can still compete and give myself a chance to win against the new kids then I will keep playing and keep trying to win tournaments," said Jiménez.
"I am 50 next year but I do not think it is time for me to play with the Seniors yet. I still feel like I can win on the Tour, and as long as I can stay healthy and away from injuries then I will be here for a few more years."