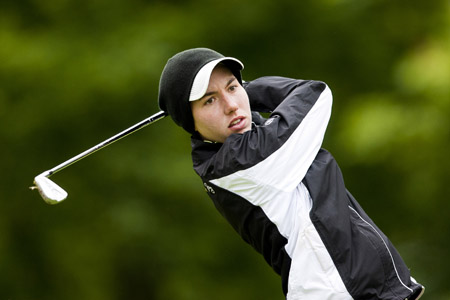 Carlota Ciganda will go in pursuit of a repeat victory over the next three days at the Deloitte Ladies Open in the Netherlands.
The 23-year-old from Spain will attempt to defend the title she won last year at Broekpolder at a new venue, The International, in Amsterdam, which poses a stern test of golf.
"It's hard, one of the most difficult courses on the LET since I've been on tour but it's going to be fun," said Ciganda, as she concluded the Pro-Am in sunny but windy conditions on Thursday.
"It's not easy. It is a really hard golf course in difficult conditions. It's long, it's playing really hard and the greens have lots of breaks. You have to putt well, so it's important to be really patient out here. I don't know how the weather is going to be, but I think it's going to be windy, raining and cold, so the scores are going to be high. Maybe two or three under will lead on the first day but I think if you have three rounds of level par you are going to be in the top five."
Ciganda tied for second at the Turkish Airlines Ladies Open a fortnight ago and added: "I'm playing good and I'm confident but I know it's not going to be easy because Christel is playing well and Lee-Anne Pace won in Turkey, so they are great players. I think the players from the UK are going to do well here because of the weather conditions so I think they will post good scores. I will try my best and we will see."
Fellow former event champions Melissa Reid (2011), Florentyna Parker (2010), Tania Elosegui (2009), Gwladys Nocera (2008 and 2007), Virginie Lagoutte-Clement (2005) and Elisabeth Esterl (2004) also return to the Netherlands hoping to be inspired by their own fond memories of the area, while Christel Boeljon will be targeting a home victory.