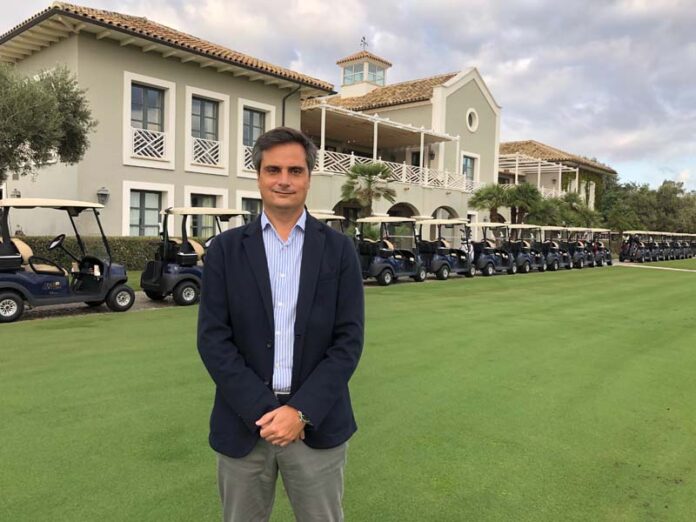 We approached Finca Cortesin and asked its general manager of golf and leisure, Francisco de Lancastre, to give us an insight into what impact the tournament is having four months before it is held at this golf and hotel resort.
Finca Cortesin is set to be host venue for the Solheim Cup, the tournament that pits the European and US women's teams against each other every two years and which is a huge draw for fans of golf. But what impact does the Solheim Cup have on the destinations it goes to? That is an interesting question from a brand and reputational perspective.
The Finca Cortesin hotel will be the accommodation for the European and American teams in September when the Solheim Cup is held. What kind of experience will the players have?
We will indeed be hosting the European and American teams at our hotel and we are delighted about it. That was something that meant a lot to us as we wanted the players to feel the Spanish and Andalusian hospitality during their visit and also have the same experience as any guest staying at our hotel. We are going to offer the players not only the very best experience playing on the golf course but also for their stay as guests.
We presume that everything is more than ready by now, but have either of the two teams asked for anything special?
Yes, the truth is we are fortunate to have fantastic conditions all year round both on the golf course and in all the other business areas of the resort and, in that sense, everything will be ready for the teams to enjoy our resort with the quality we are known for. Both the LPGA and LET captains are really delighted with the facilities and our service and so far, they haven't asked us for anything special that we don't offer on a daily basis already.
With just over four months to go until Finca Cortesin hosts the 2023 Solheim Cup, can you say there has been a Solheim effect for the resort?
You could say so, yes. So far there has been a very positive effect on the Club and the resort as a whole. We have seen a significant increase in new members, which has meant we can bring forward different phases of our positioning and pricing strategy at the Golf Club.
Likewise, the impact on global recognition of the resort has been felt and with it interest in our residential properties, especially in markets such as the American market, where penetration was lower and where the Solheim Cup has helped put a seal of confidence on our product.
In terms of markets, have you noticed an increase in American customers?
Yes, as I mentioned, we have seen a significant increase in the American market, in all the resort's business areas: hotel, golf and residential. The American market is a very high-quality market and absorbs our prices naturally, which is very good for us.
I would especially like to thank at this point the extraordinary work of public bodies such as Turismo Andalucía and Turismo Costa del Sol, who have invested in promoting our region and providing a strategy that brings added value to Andalucía.
What about other less common markets for the resort?
Yes. Interestingly, the Asian and Australian markets have also increased, especially South Asia, Australia and New Zealand. Like the American market, these markets are very high end, and holding the Solheim Cup at our resort has definitely increased their interest in our product.