Greenlife Golf is a haven of peace and quiet alongside lush vegetation and its famous lake, despite being just 10 minutes from one of the busiest places on the Costa del Sol, Marbella. This nine-hole par 3 round is not just popular with locals for its quality and ease-of-access but also with those who come on holiday to play golf as it also boasts 17 apartments, clay tennis courts and a famous restaurant – El Lago, holder of a Michelin Star since 2005.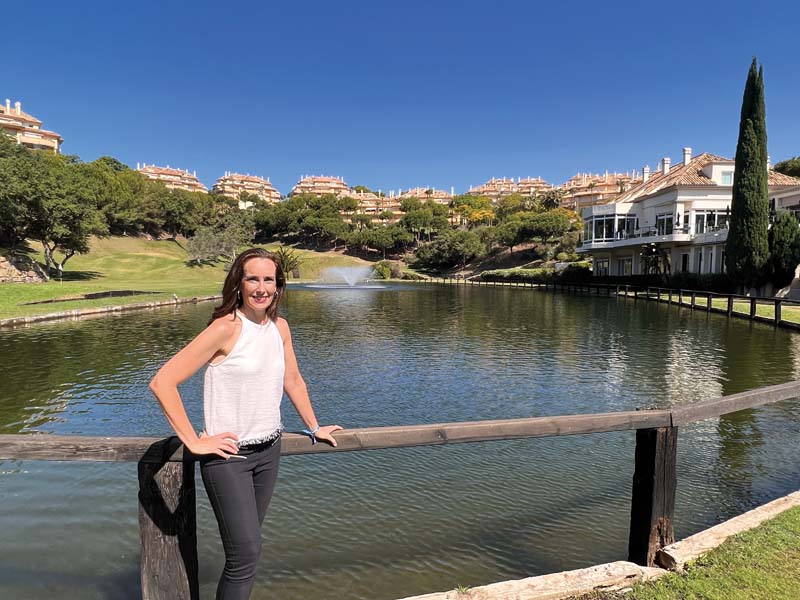 Greenlife Golf Marbella has invested heavily in the upgrading of its driving range facilities and improvements in the chip and putt area. What has that involved?
The three main areas have undergone a superb transformation. We have added Toptracer technology to the 28 bays over two levels, remodelled the chip and putt area which has had new drainage systems and added quality white sand to the bunker. And to round all that off and improve the player experience even more, we have laid out five artificial coloured circles as target greens.
The bright-coloured effect of the targets combined with pin positions displayed on screen is ideal for adding a different and original perspective to golfers' play. They now have a firm target to aim the ball at in the driving range and check on their distance, speed, inclination, dispersion and other parameters in real time.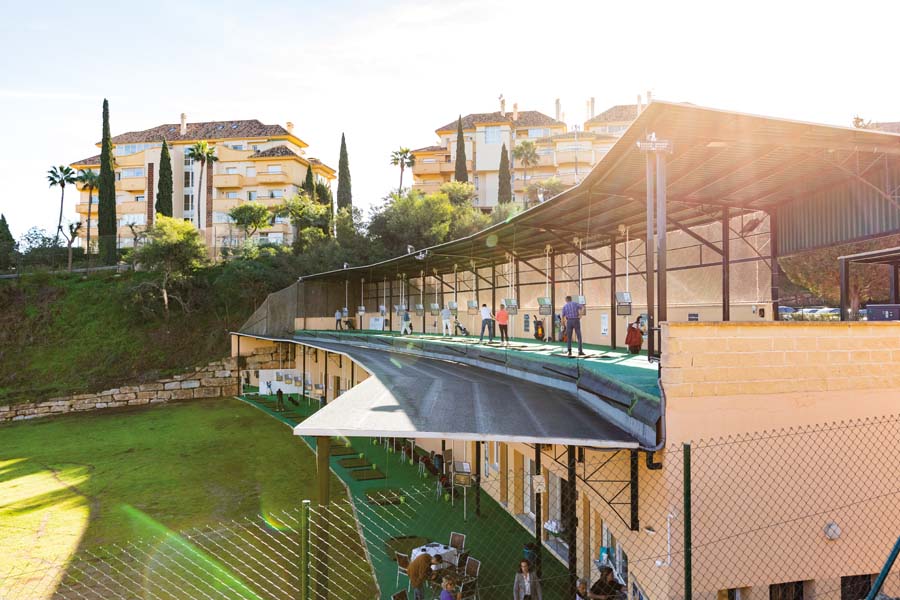 New technology is increasingly used in all areas of a golf course. Greenlife Golf has brought in Toptracer technology to the driving range, for example. How have users reacted?
The first reaction is usually one of pleasant surprise; they don't expect to have all the data on their shots at their fingertips or their stats or the option of playing other courses. Then, maybe they get a bit curious; what else can this technology offer me?; how do I improve the direction of the ball?; does the club I am using give me the distance I need? And finally, they go on to share their experience with friends and spend more time on the driving range. In short, coming along to practice is much more enjoyable.
We have also seized the opportunity to add more options to the ball machines using the latest technology. You can now buy different-sized ball buckets, depending on the time you have available, and pay directly at the machine without going through reception. This gives users greater independence and flexibility and has been really well received.
Toptracer takes the 'hit a few balls' experience to a completely different level. It includes a wide range of games and virtual golf on some of the best courses in the world, and there is even a national par 3 league. Does Greenlife Golf take part in that?
At the moment we have ten different games available, including Virtual Golf, which lets you play on other courses around the world. You can play as you want  to; for example, play only nine holes or select only the par 5's. It really is 'tailor-made' golf.
Under way at the moment we have a virtual competition with five separate rounds; a national par 3 league. Courses from all over Spain are involved, including Las Palmeras Golf (Gran Canaria), Arruzafa Golf (Cordoba), Deva Golf (Asturias), the Federación de Madrid golf academy, Club de Golf Comenar Viejo (Madrid) and us in Marbella.
What exactly is involved? And how can a player take part?
All of us are nine-hole courses with driving ranges fitted with Toptracer and we compete online for the closest to the pin on five different holes around the world. So each round lasts two weeks and those taking part compete online on the day and at the time they want in order to reach their best score. The system collects the scores and keeps track of the ranking in real time.
Joining in is really simple, you just have to download the free Toptracer app and register at reception at the driving range. A player needs to select the Closest to the Pin game and choose the hole being played that week. Then they hit as many balls as they want, until they get their best score. The cameras follow their shots and pick out the best score. And if they come back another day, when they log in, the system will recognise their stats and they can continue the competition.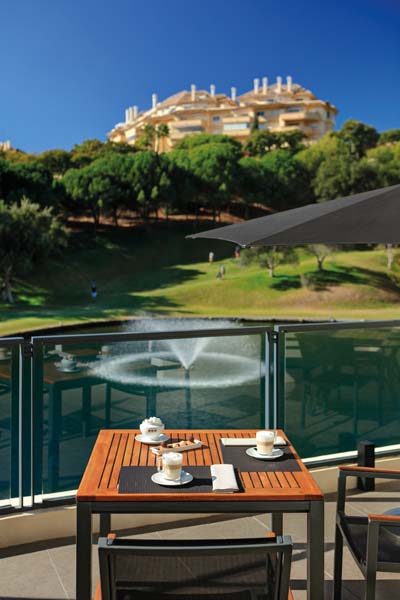 Greenlife Golf is the only golf course in Andalucía with a Michelin-Star restaurant. Do you think El Lago restaurant, (including Midi, its lunchtime service), is one of its main assets?
Definitely, and we are very proud of it. We see cuisine as one of our core values and as a draw for all types of golfers and non-golfers. Greenlife Golf aims to seamlessly take care of the needs of both our restaurant diners and our players.
El Lago restaurant works with fresh seasonal produce and the kilometre-zero concept  where we bring out in our cooking the important contribution of all those small, local producers who have been with us since the start and who help to make us what we are. El Lago opens in the evening with two tasting menus: the Menú Sazón with meat and fish and a 100% vegetarian menu, the Menú Terrá.
During the day it becomes Midi, a casual concept with well-known dishes and a touch of the avant-garde combined with Andalusian flavours. It is a more informal atmosphere with sharing plates, suitable for families, events, work meetings or friends getting together.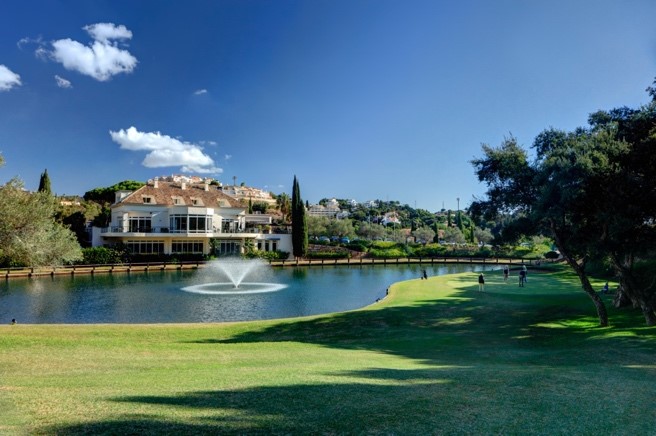 Is the food a way to lure in new players to the course?
I don't know any golfer who doesn't appreciate good food. We have a very successful nine-hole green fee package for our customers with lunch at Midi included. This means they can try out the course and enjoy our famous club sandwich, for instance, on our wonderful terrace overlooking the lake. Very often somebody coming to play also discovers the huge potential for organising an event with us.
For those who don't know Greenlife Golf Marbella, what will they find here?
Greenlife Golf is a short, technical course in an unbeatable natural setting and all only 10 minutes from the centre of Marbella. Nestling alongside the 1st and 2nd and at the foot of the clubhouse, we have an artificial lake with a growing amount of wildlife, including turtles, fish and birds. But there is much more to us than this. We also have a full range of sports facilities with clay tennis courts, clubhouse with fitness centre and the largest driving range in Andalucía with Toptracer.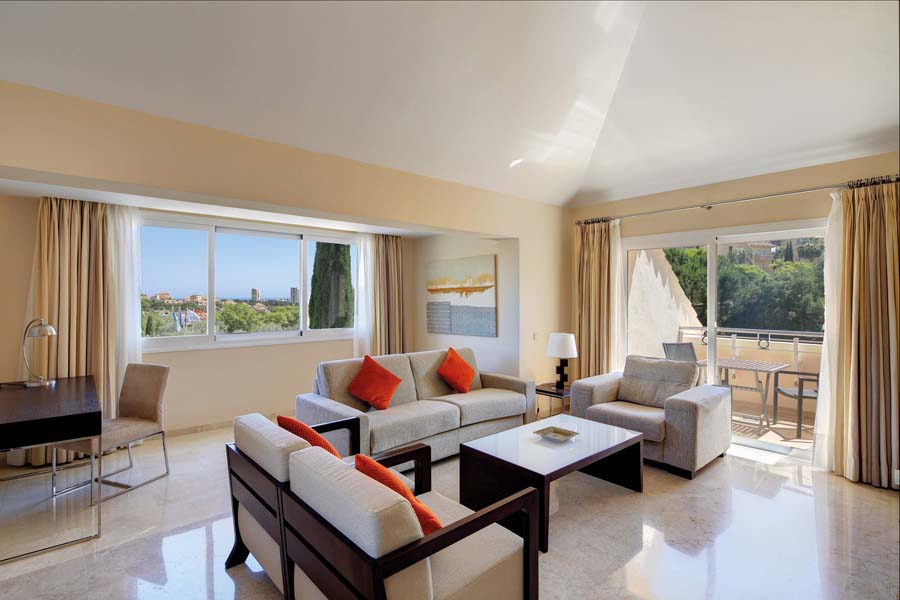 Add to this our location in Marbella, apartments in the same complex and the dining experience of El Lago, with a Michelin Star since 2005, and Midi, its midday equivalent, and Greenlife Golf is a place that truly has it all for an unforgettable holiday.