Growth among the middle class (i.e. with monthly incomes above 10,000 yuan), new business conditions, an increase in leisure time, a greater focus on fitness… all these developments have contributed to a golf explosion in China.
David Barrionuevo has been living in Beijing since 2008, a city he arrived in on his bicycle. A golf coach, he began giving classes and currently runs DBGOLF, a travel agency offering a range of services related to the world of golf.
More and more people are becoming interested in golf in China. Young businesspeople, bosses, managers and white-collar workers have been attracted to the sport and all that surrounds it. As they themselves describe golf, it is a "battle of ingenuity and courage".
Li Xiaoming is a 52-year-old businessman. He began playing golf 16 years ago, even though he considered it a sport for older people. A friend convinced him otherwise, and he was surprised and charmed by the natural environment where golf was played. Later, Li won the national amateur circuit and took part in the 1995 China Open as an invitee. He currently spends 100,000 yuan ($15,640) a year playing golf and has lost 10 kilograms over the past decade. Li is just the tip of the iceberg, and a perfect example of the typical profile of a Chinese golfer.
Evidence that golf is growing rapidly in China is demonstrated by the fact that, in Beijing alone, there are more than 65 courses. China has the world's highest number of golf course projects on the drawing boards or under construction.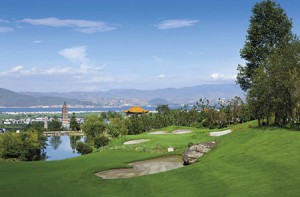 The average cost of playing 18 holes in Beijing ranges between 600 and 800 yuan (€100), although most clubs only allow members to play – with some exceptions for guests. Even though the prices are relatively high, many people want to become members of a golf club. They are seeking not only the opportunity of playing golf but also the social prestige of belonging to a club. A clear example of this trend among the new social class is found at Bayhood Number 9, one of Beijing's most luxurious clubs, with a joining fee of 1.8 million yuan and where, in spite of its tough entry conditions, it has been forced to close new admissions because of the danger of becoming overcrowded.
According to figures released by the Forestal University of Beijing, there are 600,000 golf club members in continental China, a total that is expected to rise by 20 per cent each year.
Beijing, Shanghai and Guangdong, as well as Shandong and Hainan provinces, are the main golf destinations in China, with around 600 golf courses in total and, "by chance", the country's highest concentration of millionaires.
Nevertheless, bearing in mind that China's enormous population totals 1,340 million, the number of golfers represents less than 0.1 per cent, while in countries such as the United States the figure is 10 per cent – all of which highlights the huge potential for growth.
Principla photo by Paul Lakatos/Volvo Event Management