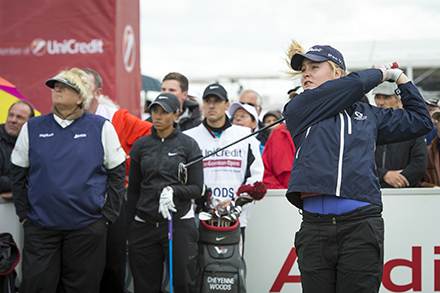 Unstoppable English rookie Charley Hull was one of five players tied for the lead after the first round of the UniCredit Ladies German Open near Munich on Thursday.
The 17-year-old Hull, who has posted four runner-up spots in as many starts on the Ladies European Tour this season, shot a five-under-par 67 to sit alongside the 2011 champion Diana Luna, Denmark's Line Vedel, Austrian Stefanie Michl and Frenchwoman Celine Herbin after largely dry but overcast day with occasional showers at Golfpark Gut Hausern near Munich.
The girl described as a 'phenom' by her mentor Tony Jacklin went to the turn in one-under but came storming through the leader board with four birdies on the back nine.
"I just went out and played. Hit it, find it and hit it again: that's all I do!" Hull said. "Victory is the only thing on my mind when I go to any tournament because you want to win, but I just take one shot at a time."
She made birdie putts from 15 feet at the 17th and 18th holes, to tie for the lead and added: "I birdied the second hole so I felt like I got off to a fast start and then only made one more birdie on the front nine so I was only one-under coming into the back nine but made a few birdies towards the end to build up to a good score."
Unbeknown to her, the European Solheim Cup Team Captain Liselotte Neumann was watching her progress and on qualifying for the team, Hull added: "I'll just keep on playing my golf and hopefully get in!"
She was six feet away from winning an Audi R8 Spyder worth 160,000 euro for a hole-in-one at the 15th and although she can't yet drive, she estimated that her father, Dave, would enjoy the prize.
Vedel and Luna were particularly relieved that the weather forecast for heavy downpours had been wrong.
"I was very calm on the course and enjoying the fact that it didn't rain today. I think we got very lucky with the weather," Luna said.
The 30-from Rome played four rounds without a bogey to win the event in 2011 and was flawless again with five birdies.
She added: "I'm very pleased because I played great and it was a good start. I do like the course very much, even though it's playing very differently this year. You play some longer shots but you always know what you'll get because there are no funny kicks and the balls stops where it goes."
Vedel had six birdies against a bogey and was happy to be back on the course after withdrawing from last week's Deloitte Ladies Open with a back injury.
The 24-year-old Allianz Ladies Slovak Open champion said: "I haven't practised so I'm just happy that I could play and I enjoyed it out there."
Michl fired her 67 in more favourable conditions in the morning. The 27-year-old from Graz had a back nine of two-under-par, but picking up four shots on the front nine, with her fiancé and coach Thomas Kogler on her bag.
She said: "I was just hitting it nicely and hit it close a few times and holed some putts. I missed some here and there but it was a nice steady round."
Four players ended a stroke back on four-under-par including Carlota Ciganda, Rebecca Hudson, Nontaya Srisawang and the 2009 event champion Jade Schaeffer.
Last year's winner Anne-Lise Caudal shot a solid opening round of two-under-par but the 2010 champion Laura Davies didn't fare as well. Four-under after 12 holes, she then slipped back to one-over-par after dropping five shots over the closing holes.