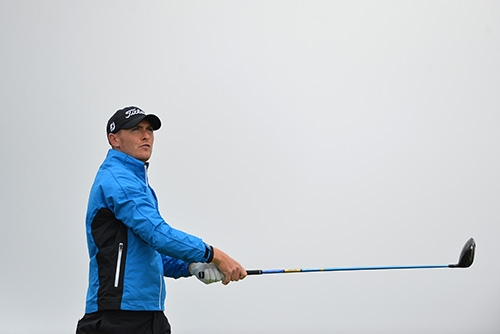 Lloyd Saltman equalled the best round of his professional career on the opening day of the Madeira Islands Open – Portugal – BPI as a scorching eight under par 64 moved him two shots clear at the top.
The Scotsman, a former World Amateur Number One and two-time Walker Cup player, was the first man off on the first tee and the early bird certainly caught the worm at the stunning Clube de Golf do Santo da Serra.
Despite swirling winds at the Madeira venue, which sits 700 metres above sea level, the 27 year old made the perfect start with a birdie at the first before three more in a row, from the third hole, and another at the ninth took him to the turn in five under.
The Edinburgh man, who was a picture of calmness throughout his opening round at the Madeira venue, gained another shot at the 11th before mistakenly hitting the wrong wedge into the green at the 12th and subsequently falling to his first bogey of the day.
He bounced straight back in superb fashion, however, as a birdie at the 13th cancelled out his only blemish of the day, before two more birdies on the way home earned him an early lead, which he maintained for the remainder of the day.
"I'm very pleased with my round," said Saltman, who carded a 64 in the second round of the 2012 Nordea Masters. "It wasn't easy out there today, with the wind swirling and getting very strong at certain points.
"I just played really well tee to green and made the putts I needed to make and my short game was really good as well so I can't really pick any faults from that round.
"I have put myself in a great position and I'm here to win. I've been working very hard trying to get my game as good as I can and it's nice to see the work paying off.
"It was a momentum killer at the 11th. It's a short hole and I was only going in with a wedge but for the first time in my life I actually took the wrong club out. I hit the shot and it was only when I gave the club back to my caddie I realised I hit a 58 degree instead of a 54.
"I have never done that but I was so into the yardage and the shot, I didn't even look at the club and it went into the bunker. That was my only mistake so it was pretty close to a flawless round."
Richard Bland of England was two strokes back after he fired seven birdies for a six under par round of 66, while Sweden's Joakim Lagergren, Scotsman Craig Lee and Mark Tullo of Chile were a shot further back in tied third, after five under par rounds of 67.
Foto:©Getty Images