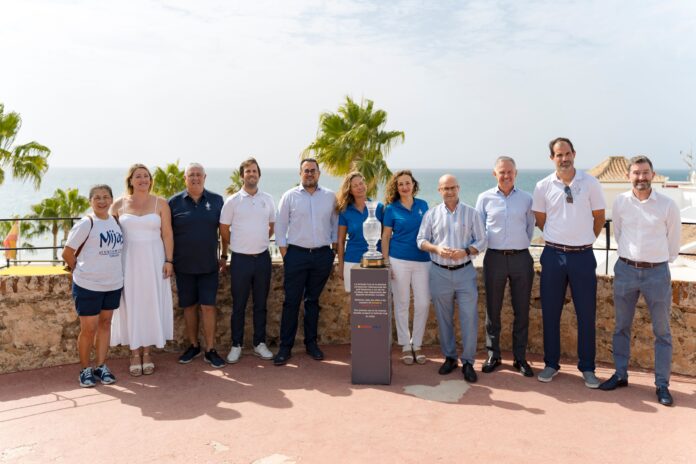 The 4* Spanish golf resort has been a proud ambassador of Andalusian golf over the years. With the historic event taking place in the region later this year, La Cala has been at the forefront of all Solheim Cup activities.
Members of La Cala's staff and team were given the honour to receive the trophy and take the silverware on a tour of the Mijas area. After visiting such incredible sights like Mijas Pueblo, Torreon de La Cala de Mijas and Senda Litoral in a traditional horse drawn carriage, the trophy finally made its way to the La Cala Hotel.
Landing in theatrical style, the Solheim Cup trophy arrived in a hot air balloon opposite the La Cala Hotel, landing just in front of the 18th green on the Asia course, and La Cala´s iconic clubhouse. Once the trophy was safely in the hands of the La Cala ambassadors, the Solheim Cup was put on display throughout the resort, for all guests and visitors to see.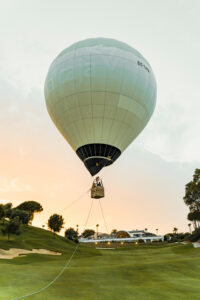 Starting off at the La Cala Golf Academy, all junior and summer camp golfers were able to view the trophy, taking pictures and selfies with the inspiring Solheim Cup silverware. Next, the trophy moved to the La Cala hotel reception area, where incoming guests and hotel visitors could stop by and admire the iconic trophy design.
Finally, the Solheim Cup trophy was displayed at the newly renovated La Cala Clubhouse. Taking centre stage in the Clubhouse, the trophy was available for all La Cala residents, guests and visitors to come by and take pictures, with popular activity throughout the weekend.
This included the recent XXV Trofeo Feria de La Cala de Mijas golf tournament winners. La Cala golf course designer, Cabell B. Robinson, who also designed Finca Cortesin, was in attendance to present all competition winners with prizes, including Solheim Cup passes and other golf resort play-and-stayprizes.
With just under 50 days left until the start of the Solheim Cup in September, La Cala Resort is still offering limited availability for guests and visitors wishing to stay and enjoy the European vs. USA match-up.
Whether it is playing golf at one of their three Championship courses or watching all the Solheim Cup action from the comfort of the La Cala Clubhouse, visit www.lacala.com or call +34 952 669 016 for all availability details and booking options.
Situated in the foothills of the beautiful Mijas Mountains with breath-taking views of the stunning Andalusian countryside, La Cala Resort offers an idyllic rural retreat for potential residents and hotel guests.
For further information on La Cala Resort please visit www.lacala.com.