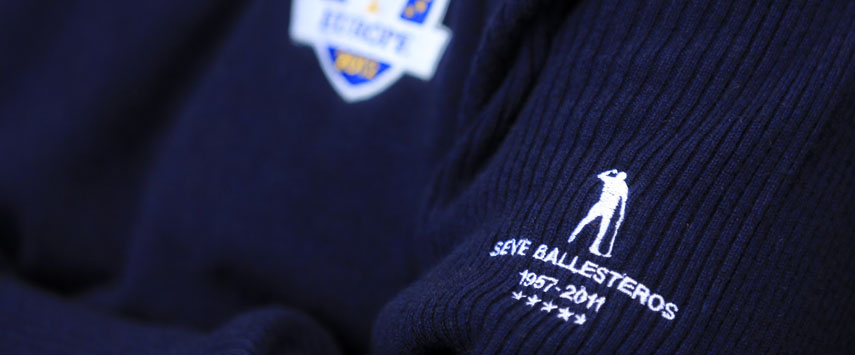 José María Olazábal, Europe's Captain, has acknowledged the generous gesture of American counterpart Davis Love III which allowed The European Team to wear navy blue in honour of Seve Ballesteros for the final day of the The 2012 Ryder Cup match with the United States at Medinah Country Club.
Ballesteros, who captained Europe to victory at Valderrama in his native Spain in 1997, famously wore navy blue on the final day for many of his 91 worldwide wins including three Open Championships after capturing his first European Tour title in the 1976 Dutch Open wearing a shirt of that colour.
Olazábal said: "Davis was extremely understanding because he had it in mind for the United States to wear blue on the last day, but when we explained the reason for wanting to wear navy blue he immediately accepted our reasoning. It was a terrific gesture on Davis's part and one all of Team Europe appreciated."
Olazábal specifically selected a "Seve Blue" outfit with navy blue cashmere sweater, navy blue trousers and matching designer belt complimented by a pure white cotton polo shirt.
Ballesteros completed his "happiest" victory in similar ensemble when at St Andrews in 1984 he won the second of his Open Championship triumphs after pulling on, when the wind strengthened on the 15th tee, a navy blue sweater chosen to go with his white shirt and navy trousers.
Ballesteros played in eight Ryder Cups, won 22 ½ points from 37 matches including 11 wins and two halves from 15 matches in partnership with Olazábal.
He passed away on May 7, 2011, following a courageous battle against cancer and following an outstanding career which included 50 European Tour wins, three Open Championships and two Masters Tournament victories.