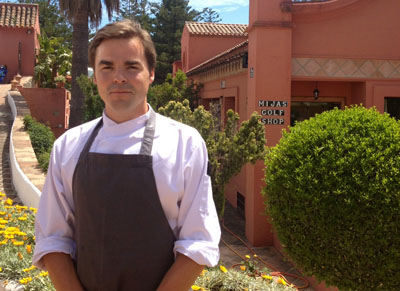 uring the last years, Mijas Golf experienced the gratification of seeing many of our dreams and projects fulfilled; new changing rooms, lockers room's enlargement, refurbishment of the practice area and, of Course, our most important challenge: The complete reconstruction of Los Lagos.
It's time to look after the restaurant, so important as – since time immemorial – it is well known that you can captivate a heart through the stomach…and because, after a good day of golf, for sure you will deserve a great meal to get your strength back while you review the best moments with your friends.
This fresh (and aromatic) breeze arrives along with our new Chef: Jesús Porras Negre.
His professional career began at "La Cónsula" School in Málaga. Despite his youth, from that early moment he demonstrated a great dedication to combine his schooling with a job at "El Lago" Restaurant (Green Life), which has one Michelin Star.
He increased his knowledge with one year of work at "Arzak" Restaurant (San Sebastián), which is the 8th best restaurant in the world with its 3 Michelin Stars; and the owner – Helena Arzak – was rewarded as "Best Chef of the Year".
He was fortunate to spend six months at the recently rewarded as "Best Restaurant in the World" (last 29th of April): The "Celler de can Roca" (Gerona). This award is granted by the Magazine "Restaurant" in London.
When Jesús has to talk about this new stage at Mijas Golf, he becomes so excited and enthusiastic. His family keeps a long friendship with the Club, which he has been visiting since he was a little child. He couldn't think of a better place to promote as a professional than here, where he feels like home. He has been a witness of these Mijas Golf improvements from the beginning, so he can't wait to be part of the change by doing what he does best: to delight us in the pleasure of a good meal.
His proposal is to introduce the typical Mediterranean cuisine and the traditional gastronomy from Málaga. To hear his suggestions make my mouth water: Mushrooms Creamy Rice, Goat Cheese Salad, "Broken Eggs", Chocolate Coulant…
Bon Appètit!