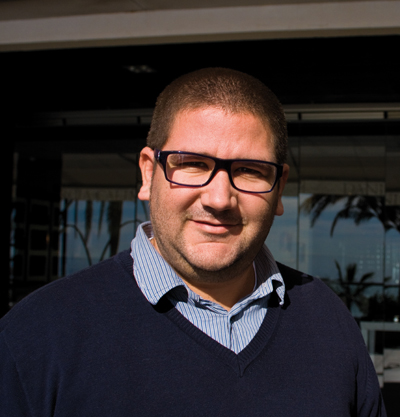 With two Michelin stars at his Calima restaurant, Marbella-born Dani García is now well established among the elite of Spain's top chefs. Still only 36 (he celebrated his birthday on 30 December) he has also gained international acclaim for combining traditional Andalucian products and recipes with contemporary creativity and innovation. A graduate of the renowned La Cónsula hotel and restaurant school in Churriana (one of 20 student chefs completing the two-year course, together with 20 other students in the dining room training as maître 'd), he went on work under current three-star chef Martín Berasategui, gained his first Michelin as head chef at Tragabuches in Ronda, then set up his own restaurant, Calima, in the Gran Melià Don Pepe hotel overlooking the beach in Marbella. Calima was awarded its first Michelin star in 2007, and García received a second one for the restaurant at the end of 2010. He has also set up a chain of "gastrobars", La Moraga, in Puerto Banús, Fuengirola, Málaga and Granada, and the Mil Milagros bistro on Marbella's Golden Mile. He is planning to open an Andalucian-style brasserie in New York in September. Calima remains closed from 1 November to 15 March but Golf Circus managed to catch up with the celebrated "local" chef as he oversaw preparations for a special New Year's Eve dinner at the restaurant.
Did you want to become a chef from a young age?
No, I believe that very few people at eight, nine, 10 or 11 years know they want to be a chef. It's another thing that you like to cook, and when you turn 16, 17 or 18 you have the opportunity. That's a bit like it was in my case. I was very interested in cuisine and the world of gastronomy, probably through my parents. We went out a lot, every Saturday morning we went to the market, later cooked at home, then went out on Saturday nights, dining regularly at restaurants.
We moved a lot in gastronomic circles, travelling around Andalucía to buy special products, eels in Sevilla, for example, or olive oil from a mill. They weren't involved professionally in the restaurant business but gastronomy was, you could say, like a hobby for them. Typically on Sundays, we would make a paella, or have a moraga (outdoor cookout) or espeto (spit, usually sardines) – cook migas (dish based on fried bread crumbs) in summer. They cooked a lot and I helped them but at no stage did I think I wanted to become a chef.
Logically, when you're midway through high school you start to think about your future. Like any kid playing football, the dream of your life, whether you are good at it or not, is to become a footballer.
What was the first dish you prepared yourself at home?
My mother baked cakes a lot, and my father liked to cook paellas, roasts… At home it was more a case of helping them, not actually cooking something myself.
Then you had the opportunity to become a student at La Cónsula …
I eventually reached a very clear conclusion. I was interested in tourism and above all else the fact that very few professions have such direct contact with people, making others happy. At home, your mother cooks on 24 December and everyone appreciates it and it makes them happy. You're cooking and you might be tired from all the hard work but you see how happy people are while they're eating. So it's not only the world of cuisine but also the world of general service and tourism. I was living in Marbella, with so much related to tourism, so I thought I would do something in that field. La Cónsula had been open for about a year and a half; it was new, and people spoke well about it.
Was it difficult to gain a place there?
At that time, less difficult than now. I entered the third year and it wasn't as well known as it is now. My mother wasn't very happy, nor my father. These days being a chef is something else, but in those days it was still a bit "green", the last resort, stuck in a kitchen somewhere. However, cooking is an honourable profession. It doesn't have to be haute cuisine: it's just as worthy to prepare sandwiches in a cafeteria. But for my parents, like any others, if your son is going to be a lawyer or architecture, much better. Now things have changed but at the time they're weren't impressed. Nevertheless, it was a job with a future, and they had to accept it. I was 17 when I entered the school, and I turned 18 two months later.

What were the key aspects of the course – the basics presumably?
Yes, definitely. Attitude in and towards the kitchen and all the basic tools to prepare anything at all. That was essential. One thing is to help your parents at home and another is to use a professional knife. That's where I was taught to cut professionally. After three or four months I was very motivated; it was like a new world for me. You take an ingredient in one hand, then another and another, and create a dish, at 17 – I really enjoyed it. Now it's changed but when I was there it was one week in the area dedicated to practical training and another week in the restaurant. It was impressive because you were working in a proper restaurant, learning the whole process. I realised then that I wanted to be a restaurant chef.
Then you went to Martín Berasategui's restaurant in the Basque Country (Lasarte-Oria, (Gipuzkoa) in 1996… What made you choose there?
It wasn't so easy to get a job there at the time, but he had a lot of confidence in the school and whom the school sent. When I started my second year at the school I knew I wanted to work in a major restaurant, and even today his restaurant remains one of the most important in Spain. I was also attracted by the possibility of working in a restaurant with two Michelin stars (it now has three). They had 50 chefs – it was like playing in the Champions League.
You were once quoted as saying, "That's where I began to see things created that I could never have imagined." What sort of things?
Every dish came out perfect. Everything was mega-controlled, to the millimetre, everything really well presented. That's where they started offering sampling menus, 12 or 14 dishes. The big boom in haute cuisine was still to come. I entered there at 19, 20 years, and the internet didn't exist. There were not as many cookery and gastronomy books as there are now, so there wasn't the same amount of information available. It was a huge surprise. You knew that he was one of the best, a Michelin-star chef, but you had no idea how they created dishes there.
The school was a very positive experience, good at teaching the basics, but the restaurant at La Cónsula was very orientated towards French cuisine, more traditional: a product, garnish and sauce. At Martín Berasategui's they broke that mould. It was another dimension. For example, clams in a green sauce, in a glass, with a kind of crème caramel on one side, parsley on another. It was completely mind-boggling. These days soufflés are everywhere but not in those days. One of the first things I made was "tomato water" and people are still surprised by it.
After six months, you returned to the Costa del Sol. What made you decide to leave?
He wanted me to stay but at 20 it was tough in the Basque Country during that period. You miss your family and your home. I was still a kid. A friend and colleague offered me a job at his father's restaurant in Málaga, Café Paris (the restaurant later received a Michelin star). I stayed there for a year, then I had the opportunity of moving to Ronda, to Tragabuches. It was then a typical Ronda mesón, run by four siblings, one who had done a cooking course, one in the dining room, another managing it. A journalist told me they were looking for a young chef and I liked the idea. I arrived in 1998, 22 years old.
Many people say my career has risen very quickly but I had my first opportunities very early on. With Martín, then at a restaurant where my friend's father let us do everything… that gives you a bit of freedom. All the opportunities I had were positive in allowing me to evolve. And in Ronda it was the same, with the same responsibilities.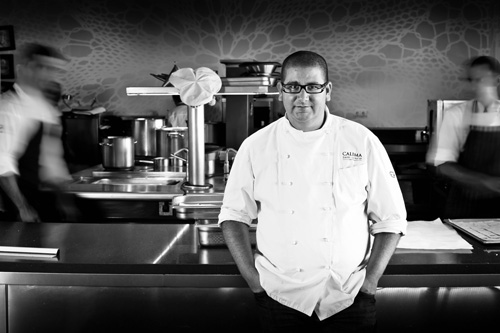 And that led to your first Michelin star…
After two years. Obviously that was a very important development. In those days in Andalucía no other restaurant had a Michelin star – though there had been others previously.
What was the key to securing a Michelin star?
The attention a Michelin star attracted then was minimal. At that age you don't appreciate its importance. I didn't know when it was announced or anything. I was driving to San Sebastián for a conference and just past Madrid a client phoned and said, "Hey, the Michelin Guide has been released and you've been given a star." I thought, "Cool!" Then over the next three days there was an avalanche of people congratulating me, chefs including (Ferran) Adrià and (Juan Mari) Arzak sending congratulations, phoning the restaurant, the press… And when you reflect on all that you realise how important it is, especially on an international level.
You might more or less agree with it, it might be controversial, but it is the only guide that compares restaurants around the world. And it's the only guide that's been around for 100 years. A lot of people don't believe in the Michelin but you can't deny that it attracts a great deal of morbid fascination – and media attention. So it has a lot of positive aspects.
It's also much more than just the cuisine…
It's everything. You can spend four euros on a glass of water or 100.
What made you decide to move back to Marbella?
After six years and a bit at Tragabuches, things started to become slightly complicated. I wasn't the owner – and you always want to evolve. People came from everywhere, the press came, and they demanded the best. I began using liquid hydrogen and it cost a lot. In Ronda, even allowing for the place it was, you couldn't go crazy with the prices. I'd received quite a few job offers over the years, including in Marbella, but I was always stubborn and wanted my own restaurant if I moved back to Marbella.
At the same time I didn't have the selfish view that if I went somewhere else I had a reputation and I could make a lot more money. My only motivation was to do the best I could, and to wait, to be patient in that respect. Sol Melià contacted me and asked me to go to Madrid but I wanted to stay in Andalucía. After thinking about it a lot, I said, "I'll join you but in Marbella, not Madrid." It was important for me tor return here, with my family, my lifelong friends, and it's also Marbella! Obviously here there's more scope for the luxury of haute cuisine than in Ronda. You can play in another league here.
In what way is Calima different to Tragabuches?
It's the same philosophy but before we had six cooks – now I have 25. Before we had one kitchen, now it's two. It's probably a lot easier for me now to do what I want to do, to realise my dreams. Some people say, "Ah, it's so easy", but it's a matter of having reached this point. The presentation and setting, the staging, these days is nothing like it was in Ronda. Everything's much cleaner, more subtle, more technical. There the menu was 10 or 12 dishes; here there are more than 20. Here we have 25 waiters.
The essence of the cuisine is the same. It's like when you see one of the first Ferraris and think, "Wow, that's amazing", then you see the latest model. It's the same concept, the same brand, the same car, but it's not the same as the first Ferrari.
Your style of cuisine has been described as being based on contrasts but at the same time rescuing traditional flavours and recipes from Andalucian gastronomy. Is that how you would define it?
Some people are a bit frightened when they come here but they soon discover the cuisine is a lot more normal than they thought. Something might not seem traditional at first but you taste it and it's ajoblanco (cold soup based on almonds and garlic), or some other dish you recognise.
Do you believe some chefs have gone too far, creating strange dishes that seem to be more from a laboratory than a kitchen?
You come to a point where the boom is so extended that if you don't control it you can go too far. In Spain, some things have been created that are difficult to understand in a conceptual sense. Food should be delicious, not conceptual. It's all very well to have a concept, a philosophy, a technique, but in the end we should not forget that we are chefs.


Perhaps artists also, in a sense?
No, we're chefs – we provide food. Eating is a pleasure. That's what we should always bear in mind. Be it preparing sandwich, as I mentioned before, or haute cuisine.
Is that the message you give your kitchen team?
Every day. The problem is that there has been such a huge boom and such enormous success that you have to control yourself or it becomes a madhouse. We shouldn't think we're artists or people living outside reality. Cuisine is all about eating well: that's the philosophy I've always had.
You are known internationally as one of the first chefs to use liquid nitrogen (together with Ferran Adrià and Heston Blumenthal). Do you still use this process in your cooking?
It's not so much if you still use it but how you use it. It's all about using a particular technique in order to enhance the flavours – in other words, at the service of its use.
Are there any other new trends gaining popularity?
Things have quietened down a lot as far as creativity is concerned. In the first place, inventing a technique is something very few people can achieve. Maybe five, 10, 15 or at the most 20 chefs in the world. It's extremely complicated.
So do you have a new invention in mind?
No, it's no longer fashionable.
So does that mean there has been a return to traditional techniques?
No, not that either, but not the crazy creativity there was before. There was an era, from 2001, six to eight years, when every year you had to invent something incredible, whatever that was. First of all there was a "superman" far ahead of everyone else, Ferran Adrià, who had the ability to create six or seven new and completely different dishes every year. And the rest of just had to create what we could. It was a crazy anything-goes era when you created a technique, then the dish. What has been created technically in Spain over the past 10 years in the world of gastronomy, the rhythm of that creativity, should have taken 30 years. It was all very forced, and that crazy boom has come to an end. Now it's a time of "peace". I have my own philosophy, my own style, my own vision of what will or should happen. In the meantime, I simply continue to cook.
With all your other establishments, conferences, exhibitions and courses, how much time do you actually have to cook these days?
We've got a big team, so it's been about two months since I prepared a menu. My thing is haute cuisine. There's also the business side, which you do because you have to. It's very important to travel. There's no creativity without travel. Everywhere. Creativity is separate from the day to day running of the restaurant. They don't need me to be there.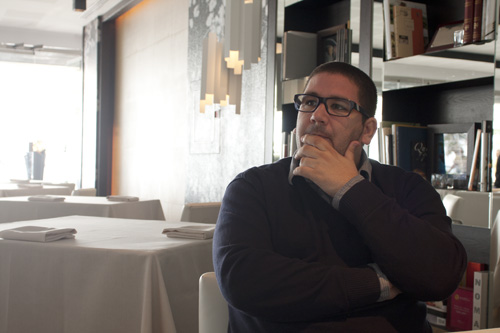 Have you had to revise the menu in response to the economic crisis?
At Calima, no. People come here from everywhere. Not sure about this year but every year we've increased the prices. Before there was a la carte and three menus. We got rid of the a la carte – because obviously with a la carte you could come here and eat for €60 – then we sit down and there's one price, minimum. After that, you can order what drinks, wine or champagne you prefer, but there's a minimum price.
It changes your life. Bit by bit it makes things easier day to day. If you really want to play with haute cuisine, to truly showcase what you do, and ensure that people enjoy it to the maximum, you have to do that.
In general terms how has the crisis affected haute cuisine?
A friend of mine, also a cook, Andoni, was asked that question a few months ago and his answer represented the pure reality of it all: in effect, that haute cuisine is always in crisis. Here (at Calima), business is growing but with haute cuisine it's not a case of crisis or no crisis. Haute cuisine costs money. Some people find it hard to understand but it's a lot simpler than it seems. People I know well will say, "Fifty people here dining, an average of €180 or €200 each, every night of the month… that's amazing." And yes, it is amazing, but the costs are higher. For someone spending €200 it costs us €210. So we effectively pay €10 for everyone who dines here. You have to make you money elsewhere. That's why I have other businesses. Of course, it is true that Calima provides an image to do other things, other companies that hire you, conferences, and that all makes money. So one thing goes with the other – the restaurant is what gives them the confidence – but for us to survive here, in a normal way like any other business, we would have to charge double.
Do you have to take into account the preferences and requirements of elite sportspeople, for example, golfers?
They might be able to come to Calima twice a year. The rest of the year it's salads. It depends on the individual. We have a special bread that you could eat anything from 100 grams to a kilogram. The menu is very balanced but it's a lot of food, a lot of grams. Of the 20-plus dishes, many are finger foods but 10 or 12 are half rations.
It's the same as asking, would a sportsperson eat pizza every day? Or a hamburger? They can't eat haute cuisine every day. They have to have a balanced diet. It's like going to the opera, or the theatre. It's more than just coming here to eat. There's a story around you as well, with the waiter performing, all kinds of sensations: lots of special things for a special group on a special occasion.
However, the main day-to-day aspect of Calima is the menu. I'm often asked, "Do you measure the calories in the menu?" You don't go to McDonald's every day. It's a matter of good sense and logic. With haute cuisine you can do anything. Once a couple couldn't eat anything using olive oil. Imagine what that meant for us! To prepare a menu with nothing even touching olive oil… it took a tremendous effort. Very complicated. But we did it. There are some people who send a list of allergies and you think, "Bloody hell! Why don't you eat at home. You're annoyed for a few seconds then you're motivated and it's a challenge. Like for someone who doesn't eat seafood or fish, or is Jewish…"
In contrary to the urban legend that you leave these kinds of restaurants still feeling hungry, you here you are absolutely full. You can eat everything you want, including bread, dessert and cheese board, so it's impossible to leave hungry. We have people coming here who are reluctant, four friends, two couples, for example, and they make a joke about it. By the second dish they've completely changed their attitude. We put up with that every day, the urban legend surrounding haute cuisine. That's not real haute cuisine at all: it's someone imitating haute cuisine – a huge plate full of powder, paprika and a little something in the centre.
Do you also offer vegetarian options?
Yes. When people make a reservation they can ask for various things. If they have an intolerance to something, for example, or an allergy, or are lactose intolerant. Before they come we can prepare a menu with a similar number of dishes, but for vegetarians. If someone can't eat seafood, we can prepare a menu without seafood.
Would you like to have your own TV show?
I've done a few things on TV, and I've received a lot of offers, but if you do it well the time you have to dedicate to it is excessive. Right now it doesn't motivate me, but In 10 years who knows?
If you could choose, with whom would you like to share the "sobremesa" (sitting around the table chatting after lunch)?
Pep Guardiola (Barcelona football club manager).
Do you have any special hobbies?
I love paddle tennis but it's a question of time. I've had golf lessons and really enjoyed it. Living in Marbella I'm sure that one day I'll be able to play more. The problem with golf is you have to think about so many things at once. And you have to play regularly. Strangely, the first time I picked up a club I was cooking in Puerto Rico and they gave us two options for a leisure break: water jet ski or golf lessons. I'd never ridden a jet ski, even living here, so I chose that one but we chatted for a while and I found out there were sharks. They assured me nothing would happen but I opted for golf. I had a great time. Once I also had some classes with Miguel Ángel Jiménez's brother at Torrequebrada. The good thing is, you can still learn to play at 40 or 50.
What was the last CD you bought or downloaded?
Manolo García's "Los Días Intactos" (the name "Calima" comes from an old song by García, "Para Que No Me Duerman Los Sentidos"). As for non-Spanish music… I like U2, that kind of music, Cold Play, but 90 per cent of the time I listen to Spanish music.
¿The last film you saw at the cinema?
Amanecer (Breaking Dawn – Twilight Saga).
You have two young daughters (Aurora and Laura, 12 and six)… What are their favourite dishes?
They eat what I eat. It's incredible. I took them to eat at Nobu in London and they loved it. They know I'm a chef, and they've met Ferran Adrià. They eat just about anything: they like their meat red, Japanese cuisine, raw food…
Do you have a favourite dish when you're at home?
We eat very normal food. Last night, for example, I made a tortellini. The day before, puchero (stewpot). On my last trip to San Francisco and Las Vegas, we wanted to check out the restaurants, so we had to eat five times a day. Not eating everything, but you have to try things, so you end up full. It's your work. A lot of the time you end up sick and tired of luxury restaurants.
Any favourite ingredient?
Tomato… I use that a lot. A good tomato is exceptional. Also almonds – a typical product from this area.
Fish or meat?
If I had to choose one dish, some good fried boquerones (anchovies). Because I like to eat, and I like everything, that reflects itself a lot in the cuisine. It's a positive thing. To cook well, you have to know how to cook well and to like eating. In the end your cuisine reflects your personality.
The most exotic thing you've eaten?
One of the strangest things I liked eating was in Peru, guinea pig. They call them cuy but they're actually guinea pigs. Incredible! They raise them in their homes, and look after them – until they eat them. It's like a mini suckling pig.
And in China?
China is so immense, there are areas and provinces where they eat absolutely everything. However, in Shanghai, for example, where I've been a couple of times, I've never seen or eaten anything "strange".
Favourite colour?
Blue
Number?
Seven
What animal do you identify with most?
Koala