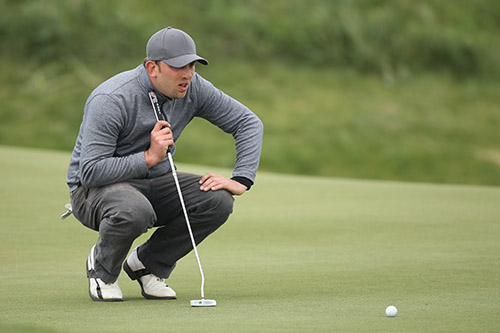 Frenchman François Calmels continued his domination of the 2013 Challenge de Madrid on Thursday, as a three under par 69 was enough to claim a two-shot lead over the pack as the tournament reached its halfway stage at El Encín Golf Hotel.
Calmels, who shot a course record 63 in his first round on Wednesday, did though see his lead cut from three overnight as Philip Archer's second consecutive 67 saw the experienced Englishman capture second place alone with 36 holes to play, one shot further clear of Sweden's Jens Dantorp.
After a masterclass of golf that saw Calmels sink ten birdies in 14 holes during a blistering first round, the 31 year old Parisian looked like finding more of the same fine form on Thursday as he sprang out the blocks with a birdie at the opening par four first in Alcala de Henares.
With more difficult conditions in Spain during the second round, though, it was to prove more of a steady if unspectacular day for Calmels, as a further gain at the long fourth preceded 13 straight pars before he finally found a third birdie of the day at the closing par five 18th.
"It was more difficult than yesterday with a strong wind and the pin positions were not easy," said Calmels. "Some holes had changed a lot, for example yesterday I played driver and a wedge on the ninth and today needed driver and a three wood. My game was very good like yesterday but it was a little bit tougher today, it was impossible to shoot lower than on Wednesday!
"But my play was very good, I missed a few shots but managed to save pars. To be perfect I could have made two or three more birdies and I missed some good chances from around two meters. But I am happy because it is not easy to play well after such a good round, it was nice."
Three-time Challenge Tour winner Archer, who began the day three off Calmel's red-hot pace, backed up some excellent approach work with superb putting on Thursday to storm into contention at ten under par, two behind Calmels' lead, and reflected afterwards that the warm Spanish weather was seeming to have a positive impact on his golf.
"My game feels very good, it's been a long break," said Archer, who made eight birdies and three bogeys during a rollercoaster second round. "As stupid as it sounds, too much rain and bad weather left me two months with no golf at all. I did not touch a club for three weeks and I started hitting balls a week ago.
"This is my first event of the season and it is great to play out there short sleeves! My routine and process around golf course is coming together."
Spaniard Alvaro Velasco showed some of the talent that saw the home contender crowned Challenge Tour Number One in 2010, signing for a best-of-the-day 65 on Thursday to move into a share for fourth place alongside England's Sam Hutsby at eight under par.
After starting on the back nine, Velasco found five birdies in reaching the turn with just 31 blows and refused to let up there, a monstrous drive and a pin-point wedge setting up an eagle on the long first before a further gain at the fourth was tempered by his only bogey of the day at the par four sixth hole.
"It's been a very solid round from tee to green, I am feeling very comfortable with my putting," said Velasco. "I started off very well and gave myself many birdie chances.
"I am feeling much better than at the beginning of the week when I wasn't very solid, I was tired but I am feeling better each day and seeing as my game seems to be coming back I'm looking forward to the weekend."
Tapio Pulkkanen had perhaps the moment of the day at El Encín, however, when the Finn made his first competitive hole in one at the par three third hole with a picture perfect eight iron from 178 yards, en route to a five under par 67 – good enough for a share of tenth place heading into the final two rounds.
Amateur Champion Alan Dunbar was unable to capitalise on a fine start to his professional career yesterday, when the Northern Irishman shot an opening 68, struggling to a six over par 78 on Thursday to miss the cut in Spain.